Freshness Guaranteed:
During the season our pecans are harvested and processed from our own orchards daily.

We know you want the best quality and fresh taste for all your baking needs, so we strive to bring you just that.

All orders are handled promptly and under supervision in order that we may send you our very best pecans.

We guarantee your satisfaction or we will cheerfully refund your money.

Some Timely Tips:
When estimating how many pecans you need to buy, consider that each pound of pecan meat contains 3 1/2 - 4 cups pecans.

One pound of unshelled pecans will yield 1 3-4 to 2 1-4 cups pecan meat, depending upon variety.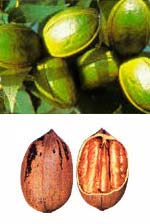 Store Pecans Properly To Retain Freshness:
Store unshelled in a cool place for approximately 6 months. Shelled pecans will keep in the refrigerator for 6 - 9 months, freezer up to 2 years.

Pecans keep best when stored in air-tight containers such as freezer weight poly bags with twist ties, glass jars, and plastic containers with tight fitting lids.

To use frozen nuts, use directly from the freezer in your recipes, or allow to thaw by placing in refrigerator for 24 hours to bring up the temperature slowly. They may then be used as fresh nuts.